What is Kybella?
Kybella is an injection of deoxycholic acid that improves the appearance and profile of submental fat, also known as a double-chin.
Am I a Good Candidate for Kybella?
If you notice a pocket of fat below your chin, often called a double-chin, and you aren't quite ready for surgery you could be a candidate for Kybella. The best way to determine if you are truly a good candidate for Kybella is to have a private consultation with Dr. Fante.
How to Get Rid of a Double Chin With Kybella
Over a period of 6-12 weeks, Kybella is working to destroy fat cells below the chin that cause the double-chin look. Kybella breaks down fat cells in the injected area and our body rids the destroyed fat cell as waste.
Kybella Side Effects
Common side effects include swelling, bruising, tenderness, numbness, and redness. These side effects are usually temporary and often resolve on their own.
Are There Any Alternatives For Double Chin Removal?
Among the alternatives for improvement in neck fullness are treatment with CoolSculpting, neck liposuction and neck lifts. Neck liposuction and neck lifts are both surgical procedures that require some level of anesthesia while CoolSculpting is completely non-invasive. Dr. Fante will discuss your options during your personal consultation.
Watch our patient's transformation with CoolSculpting, Kybella, and Voluma to achieve his desired outcome!
How many Kybella treatments are needed?
Most patients see the best result with two treatments, although more treatments could be done to achieve the result desired by the patient. We don't recommend more than six treatments.
Results After Double Chin Injections
The end result is a smoother profile, more defined jaw line, and permanently removed fat cells. Once the fat cells die they do not grow back, though any remaining fat cells could grow larger if you gain weight or shrink if you lose weight.
Kybella Before and After
This patient received one treatment of Kybella and is pictured 7 weeks post-injection.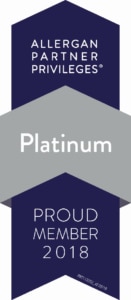 Schedule a consultation
If you are unhappy with excess fat under your chin and are interested in Kybella, contact our Denver office today! Call (303) 839-1616 to schedule a consultation with facial plastic surgeon Dr. Robert Fante.